Almost one year since the "DH in the Time of Virus" Twitter Conference, which took DH Twitter by storm right at the beginning of the pandemic and was voted 1st Runner Up in the "Best DH Response to COVID-19" at the DH Awards, the Digital Curation Unit – IMSI, "ATHENA" R.C. is organizing a follow-up event, this time a digital Workshop in which we aim to reunite the Twitter Conference participants alongside further DH researchers. The Workshop will take place on Monday, 26th of April, 14.00-17.00 CEST (15.00-18.00 EEST).
The aims of the workshop will be to:
Revisit, reappraise and reevaluate considerations, remarks, and research outputs presented in April 2020: What steps have we taken?
Benchmark the impact of COVID-19 in DH communities across the world
Reinforce bonding and explore new COVID-19-related research ideas
Share perspective foresight for the still uncertain months to come.
The outcome of this workshop will be a short digital publication (openly available following DARIAH's Open Access Guidelines) as well as a printed publication monitoring the effects of the pandemic on e-Education, e-Research and digital tools, methods and platforms, the developments the pandemic has expedited and the delays it may have caused in DH research and the distance covered and toils endured by DH researchers and practitioners to keep track of their work.
The workshop and publications are kindly funded through the DARIAH Theme funding scheme.
In order to join the Workshop, please make sure you fill out the registration form.
More information about the Workshop can be found here.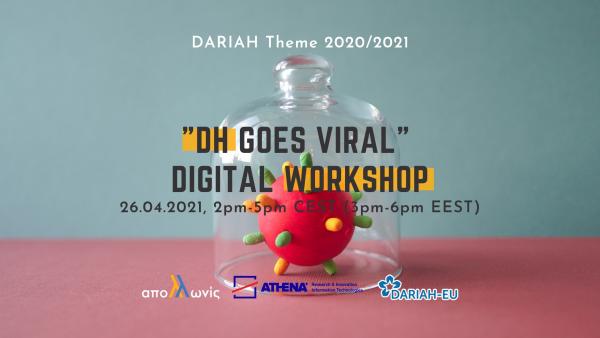 ​