META-FORUM is the international conference series on powerful and innovative Language Technologies for the multilingual information society. It is the place to be to learn about the most recent developments and achievements in European Language Technology, both from industry and research, including language-centric AI.
META-FORUM 2022 will be conducted as a hybrid conference combining the advantages of flexibility and accessibility online with the benefits of face-to-face discussions.
In this year's edition, the projects EUROPEAN LANGUAGE GRID - ELG and European Language Equality - ELE will be featured equally. The final results of ELG, including the Release 3 of the ELG cloud platform, will be showcased. Moreover, the findings of ELE will be presented, including the surveys conducted, the definition of the Digital Language Equality Metric and the strategic research and innovation agenda to reach Digital Language Equality until 2030.
Registration for META-FORUM is, as usual, free of charge. 
More information about the Programme of the Conference can be found here.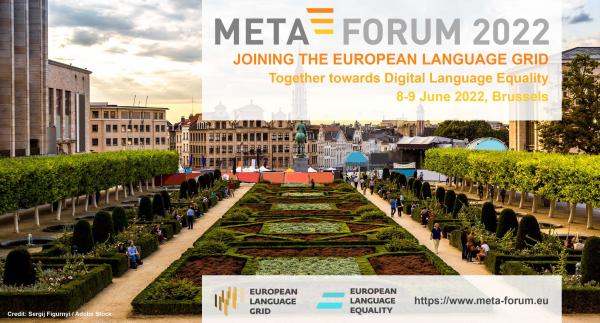 ​