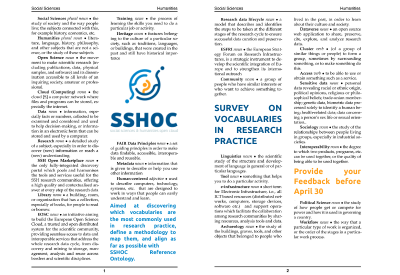 Social sciences and humanities research practices are rather diverse from one discipline to another but also from one country to another. This fragmentation is also present in the use of vocabularies in SSH throughout Europe. 
SSHOC Project organised a Survey, aiming to discover which vocabularies are the most commonly used in SSH research practices, define a methodology to map them, and align as far as possible with the SSHOC Reference Ontology.
The Survey will run for three months, ending by April 30th 2020. Results will then be published in December 2020.
Take part in the SSHOC Survey on use of Vocabularies in SSH research practice!
Find out more here.