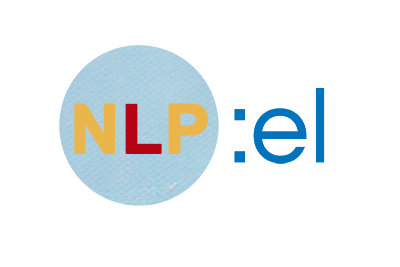 CLARIN ERIC is a Knowledge Sharing Infrastructure. Based on a set of measures and facilities, CLARIN ERIC Infrastructure aims at securing a continuous transfer of knowledge between all players involved in the construction, operation and use of the Infrastructure. Each of them needs knowledge and expertise to do their jobs, and they generate new knowledge and expertise as they go along.
One central step in building the CLARIN Knowledge Sharing Infrastructure is the establishment of Knowledge Centres (K-Centres).
On March 2020, NLP:EL has been officially recognized as a CLARIN Knowledge Centre (CLARIN K-Centre) for Natural Language Processing (NLP) in Greece. NLP:EL is created, operated and maintained by researchers and academics active in the fields of Language Technology (LT) and Language Resources (LRs).
Aiming to provide to all interested parties 
useful information and educational material (relevant publications, manuals and video tutorials of NLP tools),

a dedicated helpdesk

as well as guidance for the findability, accessibility and use of language processing tools and web services,
NLP:EL is the CLARIN K-Centre in Greece supporting:
NLP research for Greek

Digital readiness of Greek
NLP:EL is hosted by the Institute for Language and Speech Processing (ILSP) in Athens, Greece. ILSP is one of the research institutes of Athena Research and Innovation Center in Information, Communication and Knowledge Technologies, active in the fields of Language Technology and Cultural Technology.
More information about the NLP:EL Knowledge Centre can be found here.