The 1st CLARIN:EL Summer School "Language Technology and Social Sciences & Humanities: a new research methodology" was successfully held online on 6-8 July 2021.
The Summer School was attended by 75 participants, whose activities fall into the fields of Library Science, Language studies, Education, History and Archaeology, Literature, Computer Science, Digital Humanities and Political and Social Sciences, attended the Summer School.
With the support and guidance of 15 prominent researchers and scientists, the participants had the opportunity to get acquainted with the basic concepts of Language Technology and Language Resources, take a deep dive into data collection, curation and processing, to discover LT-based applications and to hear out about the role of national and European Language Resources & Technologies Infrastructures, which aim to strengthen open science policies and facilitate data sharing and the development of new language technology applications. During the 3-day Summer School, the participants also familiarized themselves through hands-on workshops with the CLARIN:EL Infrastructure, the curation of resources and the use of NLP tools.
The CLARIN:EL Summer School 2021 was organized by the Institute for Language and Speech Processing (ILSP) of the Athena Research Centre (ILSP/Athena RC) in the context of the APOLLONIS Project.
More information can be found here.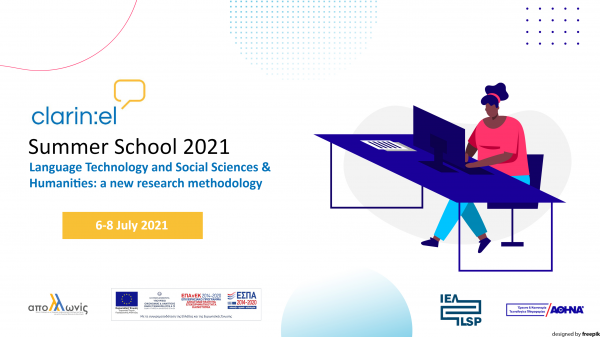 ​