A few words about the initiative
Me, my family & other resources is a CLARIN:EL initiative which aims to present a selected resource from the CLARIN:EL Central Inventory on a monthly basis. In addition, other CLARIN:EL resources considered to be distant or close relatives of the featured resource are also presented, as members of a family with a common name. 
These families are organized according to certain common features of the resources (e.g. domain and/or thematic area, resource type, media type, time period/coverage, etc.). They are similar to human families, whose members may live independently in different parts of the world, however, they constitute a unified whole where each member retains its autonomy and particular characteristics.
So, where were these resources born and how did they get into CLARIN:EL? Which family do they belong to? Are there any other members of the same family in the CLARIN:EL Infrastructure or in the CLARIN ERIC European Infrastructure?
Stay tuned and discover each month a different resource, its family, as well as its close, or maybe not so close, relatives!
From school classrooms to CLARIN:EL
To celebrate World Teachers' Day (5 October), this article is dedicated to the resources which are hosted in the CLARIN:EL Infrastructure and constitute members of the Educational Textbooks Resource Family.
Vasilis Vasileiadis, talks about the CGL Modern Greek Texts Corpora: corpus of Educational Textbooks, one of the resources which were created during his tenure as a researcher at the Department of Language and Literature of the Centre for the Greek Language (CGL) and as a Scientific Responsible of the CGL Institutional Repository in CLARIN:EL:
The corpus of Educational Textbooks (textbooks published by the Greek Ministry of Education) comprises around 2.000.000 words and includes extensive excerpts from high school textbooks in force during the period 2000-2005. This material does not include course manuals, where continuous discourse does not abound or is limited to literary commentary only. An effort has also been made to make the corpus as representative as possible, i.e. to gather as many textbooks as possible, mainly to capture the specific vocabularies of various sciences. In addition, emphasis was given to textbooks of technical and 'science' courses, which have hitherto been curiously neglected or underestimated as language material.
The corpus is available via a web interface, where the user can search both for words by typing them as they are in the search box and for lemmas with the nominative singular form of a noun, for example. The results can be further restricted by selecting the books where the user wants to search for (e.g. Religious Studies 1st grade, Physics 2nd grade, etc.) and/or by specifying the textual type (description, narration, explanation, process analysis, instructions, argumentation) of the educational discourse.
Access to this resource is freely available for research purposes through CLARIN:EL under a CC-BY-NC-ND License of Use (Attribution, Non-Commercial use, No Derivatives).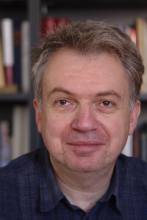 Vasilis Vasileiadis
Assistant Professor, School of Philology, Aristotle University of Thessaloniki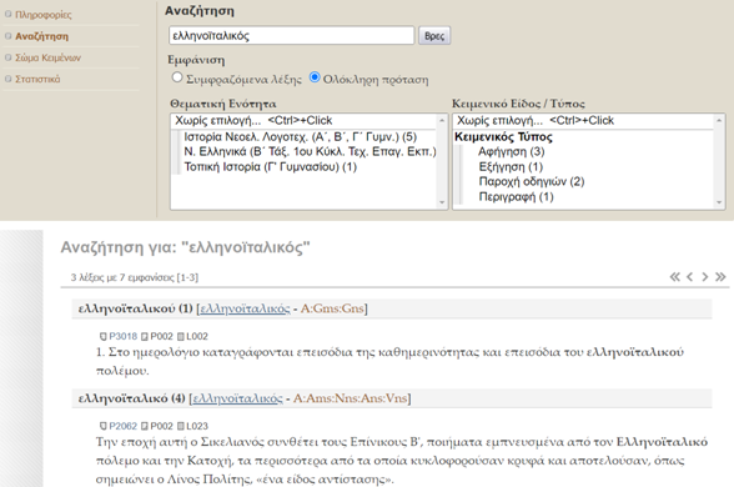 Me, my family & other resources initiative is based on the CLARIN Resource Families initiative, in which the CLARIN:EL Infrastructure is actively involved having contributed so far a large number of resources for all the Resource Families of the CLARIN ERIC European Infrastructure.